Blast Cult One4Five Giveaway
Have you noticed the latest BGM giveaway! Blast Cult is sponsoring a One4Five upright giveaway. Check it out!


---
BGM Editor interviewed on WPCR
Bass Gear Magazine Editor-in-Chief, Tom Bowlus, was recently interviewed by Port Clinton, Ohio radio station, WPCR, as part of their Talk at Ten program. Check out the Friday, May 10th installment to hear this interview.

http://www.portclintonradio.com/programs-on-demand/talk-at-ten

---
In Remembrance of Michael Powers
Music Industry Remembers Peavey Master Luthier Michael Powers
Peavey Electronics veteran guitar designer passes away, leaves legacy.
May 1, 2013, Meridian, MS -- Music and audio innovator Peavey Electronics mourns the loss of one of its most celebrated instrument designers; master luthier Michael Powers, who passed away on April 29, 2013. Powers was an integral part of Peavey's development of musical instruments throughout the last four decades. He will be remembered for his innovative guitar designs, uncompromising work ethic, and warm nature.
Powers' first instrument was a $22 mail order acoustic guitar. He soon moved to an electric and attempted his first refinish. Stripping away the paint, he spray painted the guitar red. Powers would go on to play bass on the Chicago club circuit while developing his keen instrument repair skills.
After years of touring, Powers decided to shift his career towards repairing and designing instruments, which led to his first interaction with Peavey Electronics founder, Hartley Peavey.
"Mike was part of the heart of this company," shares Hartley Peavey, founder and CEO of Peavey Electronics. "It's hard to think about him not being involved in our next generation of products. He was a master craftsman and someone I could always count on to do his best and more. He will be sorely missed."
After joining the company in 1981, Powers went on to help design some of Peavey's most iconic models including the Wolfgang®, Vandenberg, and Generation™ ACM guitars, as well as the T-45™, T-20®, Cirrus™, Millennium®, Foundation®, and Sarzo bass guitars. Throughout his career, Powers worked closely with artists such as Randy Jackson, Michael Anthony, Donald "Duck" Dunn, Steve Cropper, Eddie Van Halen and Rudy Sarzo.
"I'm devastated by the news of my dear friend and master luthier Mike Powers' passing. In the late '80s Mike and I worked side by side on every detail of the design of my first Peavey Signature model," says bassist Rudy Sarzo. "Mike was a perfectionist. His forward thinking, craftsmanship and attention to details is a major reason why I and countless musicians around the world play Peavey instruments."
Powers continued to develop innovative designs for Peavey into the 2000's while also overseeing its production facilities.
---
Radial artist Jeff Pilson and the JD-7 Injector
Radial artist Jeff Pilson - at home on foreign ground
Vancouver, BC - There is something to be said for reinventing the self and then also much to be embraced in sustaining a strong connection to the past. This is just what Jeff Pilson has done and continues to do.
Pilson began his musical journey at a very young age learning cello. Advance a few years and you would find him at college majoring in string bass. Fast forward just a little bit and he is playing electric bass in a heavy rock band, sporting the requisite 80's hair and co-authoring a title track for one of the decade's most successful horror franchises "A Nightmare on Elm Street". The song, "Dream Warriors" (which he performed with his band at the time Dokken) was featured on their platinum album "Back For the Attack".
The first trigger for change came soon after this success in the late 80's. "I think the biggest challenge for me came at the end of the 80's/early 90's. Suddenly with the coming of the "alternative" revolution, all my work with Dokken was considered old and uncool- overnight. So I had to reinvent how I wanted my career to be." On top of all this Pilson was battling a significant substance abuse problem at the time. "It took some doing. But with a lot of help, work and contemplation, it allowed me to fall in love with music again, and to listen to my heart. So far it hasn't let me down." That path saw him as a member of the heavy metal group "Dio" for several years during the 90's while also recording and releasing 4 albums with his own band under the names Flesh & Blood and War & Peace. Yet another reinvention of self came to be when he was offered a role in the 2001 released film "Rock Star" where he played bass player Jorgen alongside Mark Wahlberg and Jennifer Aniston.
In early 2004 Pilson reinvented himself once again but this time by embracing the past. Foreigner was searching for a new bassist and Pilson took the position and has never looked back. "The best thing is getting to play those wonderful songs with such a great band night after night. For a touring musician, it doesn't get any better than that!" Now approaching his tenth year with the band the next six months, not uncharacteristically, are busy. "I'm trying to finish 3 records off before the touring season gets really busy. I'm producing a Starship record with Mickey Thomas that's coming out amazing. We're hoping that's done in the next couple weeks. Then I'm doing a record with Kill Devil Hill (Vinny Appice- Dio/Black Sabbath, Rex Brown-Pantera) which isn't slated to come out til fall. We're about half done. That record is sick. The songs, playing and singing are all stellar. Then I'm doing a record with singer/songwriter Paul Gold- which is a great collection of songs, and plan to start writing with George Lynch for the next T&N record. All the rest of the time I'll be touring with Foreigner. Trust me, sleep is highly overrated!!!!" The next tour stops for Foreigner include South America, Europe and several dates in the United States.
As one can imagine, with so many projects on the docket and a touring schedule Pilson relies on some key pieces of gear to make it all work. He credits his new Radial JD-7 Injector (Guitar distro and splitter) with the sound he is getting on the new Kill Devil Hill project. "Mark (Zavon, guitarist) has some great amps and his sound is really a combination of them. I was trying other ways of combining amps and it was working, but very noisy and unpredictable. We also couldn't keep the heads in the control room, which is a drag. Then along comes the Injector and suddenly it's noise free and punchy as hell. It took the sound to a new level. And we could keep the heads in the control room which frees you in so many ways. It really wouldn't sound anywhere near the same without it. This has given me the inspiration to want to try other things like reamping with multiple amps all at the same time, which the Injector allows me to do. How cool is that???"
Clearly not one to rest on his laurels, Pilson hopes to reconnect with the cello. "It's such a beautiful instrument." He then offers with more evidence of humility and a sense of humour. "Other than that, next I'd like to get really good at mixing - cuz right now I suck!"
For more information on the JD-7 Injector guitar distro and splitter
Tatiana Kostiak
PR/Communications
Radial Engineering Ltd.
1588 Kebet Way
Port Coquitlam, BC
Tel: 778.785.0135
---
Musikmesse Going on Now!
Musikmesse – the most important event for the sector and a mega music happening
See, test and hear everything for making music
Four days of live music
Musikmesse in Frankfurt am Main from 10 to 13 April 2013 is the most important meeting place for the musical-instrument sector. During the four days of the fair, exhibitors and trade visitors from more than 100 countries meet to discuss the latest instruments, music publications and techniques. With 30,000 products on show, Musikmesse is the world's biggest marketing platform for the sector.
Musikmesse covers the entire music value chain from musical instruments and sheet music to rights management, labels and live-event promoters. The instruments to be seen embrace all categories and product groups – from classical instruments, via electric guitars and basses, percussion, keyboards and electronic equipment, virtual teaching programmes and the appropriate sheet music.
With its almost complete coverage of the market and the large proportion of international exhibitors and visitors, Musikmesse is the ideal place to cultivate business relationships, make new contacts and discover the latest innovations. The combination of Musikmesse and the concurrent Prolight + Sound trade fair generates a multi-faceted spectrum of synergistic effects in terms of live events, concert technology, production and studio technology.
It addition to its function as the business platform for the sector, Musikmesse is an event that communicates the pleasure to be derived from active music making. In a wide variety of concerts, autograph sessions, workshops and product demonstrations, the spotlight is on the people that bring musical instruments to life.
For consumers – the Public Saturday to be supplemented by 'Friday Afternoon'
Consumers appreciate this combination and take advantage of the Public Saturday to discover the latest developments in the musical-instrument sector. New this year is the Friday Afternoon Ticket, with which members of the public can visit Musikmesse on the Friday (12 April), from 14.00 hrs. To round off the first public day, there will be a concert with the band 'Luxuslärm' and Eurovision Song Contest German heat participant Finn Martin on the Agora Stage. Admission to the concert is free of charge for Musikmesse visitors. As usual, the Saturday will be devoted to music lovers who will have the chance to try out new instruments and see stars live on the stages or during autograph sessions.
Live events on the stages and exhibition stands
Concerts and workshops give Musikmesse visitors the opportunity to see products in action. There are no limits on style so there is certain to be something for all musical tastes, e.g., rock, pop, jazz, folk, heavy metal, electronic, tango, schlager and musette. For this purpose, there are two stages at the fair. The Agora Stage is the main stage and to be found in a marquee between Halls 3, 4 and 5. There, rock and pop concerts take place at half-hourly intervals on two stages. As the name implies, the Acoustic Stage in Hall 3 is the primary venue for acoustic instruments and will be the setting for concerts on all four days of the fair. New this year is the Accordion Stage in Hall 4.1. There, accordion players will demonstrate the various facets of this instrument throughout the fair. The PRG LEA Stage in the 'Festhalle' is the setting for the opening ceremony of Musikmesse and Prolight + Sound on Tuesday, 9 April, and, on Saturday, the venue for the SchoolJam school-band competition (from 14.45 hrs), during which eight bands will compete for the title of 'Germany's Best School Band'. Prior to this, at 13.00 hrs, the www.drums.de Music Award, which spotlights the quality and artistic creativity of artists from the music sector, will be presented on the PRG LEA Stage.
Regardless of whether they will be playing or talking, many music stars have already said they will be coming to Frankfurt. They include Moses Pelham and Rob Gonzales (Die Ärzte), Steve Stevens (Billy Idol), Kuddel (Die Toten Hosen), Michael Schenker and Boris Blank (Yellow), the German Army Big Band, Wallis Bird, Markus Deml, Wolfgang Haffner, The Boss Hoss, Stanfour, Mille Petrozza, Stefanie Heinzmann and Eric Johnson. Naturally, numerous experts will also take part in the various talk shows and panel discussions. They include Dieter Gorny, Enjott Schneider, Sigmar Gabriel, Christian Höppner and Moritz Eggert.Awards for artists, stars, products and people from the sector
During Musikmesse, a variety of important awards are presented to people behind the products and to celebrities from the world of music. On the eve of the fair, the PRG Live Entertainment Award puts the focus on the people behind the scenes of events and concerts in a gala event. The German Musical Instrument Award honours particularly high-quality examples of the art of musical-instrument making and this year goes to two workshops, one for an E-flat clarinet and one for a tenor horn. The presentation will be held in Frankfurt City Hall (Roemer) on 12 April. On the same evening and also in the 'Kaisersaal' of the Roemer, horn-player Marie-Luise Neunecker will be presented with the Frankfurt Music Prize. On Thursday (11 April), journalists from more than 100 magazines will honour the best products of the musical-instrument sector and the professional audio industry with the Musikmesse International Press Awards (MIPA). The German Pianist Award for young pianists on the threshold of an international career, will be given for the third time during Musikmesse. The concert by the award winner will be held on Friday (12 April) in the 'Alte Oper' concert hall in Frankfurt. Specialist magazine readers have a chance to exercise their influence in the PPVMedien Reader Awards by voting for the best products in several different product groups. The awards ceremony will be held on Wednesday (11 April). The importance of the art of printing is underscored by the Best Edition Award for especially artistic and editorially successful and important sheet-music and music books. The winners will be presented with their certificates in Room Argument of Hall 3.1 on 12 April. The 'Musik-Gordi' – the Gordian knot of the music world, a negative award that draws attention to political injustices in the music sector, will be presented by the 'Neue Musikzeitung' and 'Musikforum' magazines in Hall 3.1 (Stand C53) on Friday, 12 April.
The Music4kids special area and the SchoolJam school-band competition are designed to promote music making among young people. During the week of the fair, the Music4Kids participatory exhibition attracts around 8,000 children to Hall 5.0 where they are introduced to musical instruments and sound objects in playful way. SchoolJam is aimed at advanced musicians who have the chance to appear with their school band on the big Festhalle stage and compete for the title of 'Germany's best school band'. The competition's star guest on Saturday, 13 April, is the band 'Luxuslärm'. The European School Music Award is given for innovative and creative school-music projects and will also be presented on Saturday, 13 April.
Musikmesse brings music to the city
During Musikmesse, there are many more music stars in the city than usual and, with a number of events, Frankfurt will be even more musical. For example, from 5 to 13 April, the complete spectrum of female voices can be heard at the Women of the World Festival in Frankfurt. On Friday, 12 April, the winner of the German Pianist Award will give a concert in the 'Alte Oper' concert hall. The 'Events in Frankfurt' section of the Musikmesse website offers an overview of events in Frankfurt during Musikmesse 2013.
For further information, please see the Musikmesse internet sites at www.musikmesse.com and www.musikmesse-events.com. Topical information is also available on Twitter, Facebook and YouTube.
---
IK Multimedia iLine Mobile Music Cable Kit
IK Multimedia iLine Mobile Music Cable Kit Now Shipping
The complete cable kit for all mobile music
and audio applications
April 4, 2013 - IK Multimedia - the leader in mobile music-creation apps and accessories — is proud to announce that the iLine™ Mobile Music Cable Kit is now shipping. The kit is a collection of 6 high-quality cables, also available separately, designed to give users of smartphones, tablets, MP3 players and laptops the tools they need to handle any mobile-audio cabling situation. Think of it as the "Swiss Army Knife" of the cable world.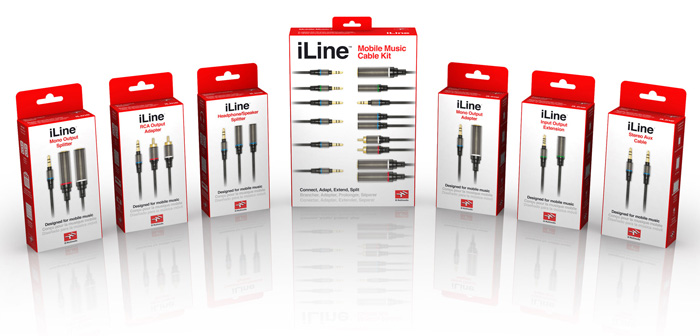 All of the cables in the kit are made in Italy, using the highest quality materials. They feature 24K gold-plated contacts and high-purity oxygen-free copper conductors to ensure the best connection with no loss of signal quality. In addition, they're equipped with high-density shielding to guard against electro-magnetic interference.

The connectors are color-coded, making it easy to identify cable types at a glance. The low-profile connector design is "case friendly," meaning the jacks connect fully and without obstruction, even when the mobile device is housed in a thick case.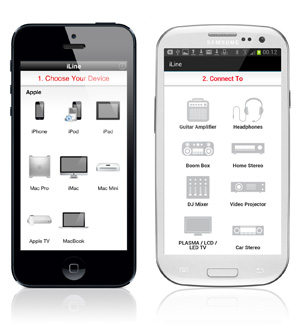 The cables in the kit offer a mix of standard, and hard-to-find configurations, and provide solutions to virtually any mobile cabling scenario, from splitting headphone feeds to extending TRRS connections to plugging into a mono guitar amplifier, DJ rig, home stereo, and more.

The iLine cables are perfect for use with IK accessories like iRig, the most popular guitar and bass input adapter of all time; iRig HD, the new high-definition digital interface, and iRig MIX, the ultra-portable DJ mixer that's small enough to hold in one hand.

IK has also released a free interactive companion app, called iLine Cable Kit, which is available for iPhone/iPad/iPod touch and for Android. The easy-to-use app recommends the right cable for a particular situation with a wide selection of devices being connected.

The kit includes the following cables:

Mono Output Adapter: can be used to connect a mobile device into a mono input such as on a guitar amplifier — it's great for use with IK's AmpliTube apps on stage.

Input Output Extension: makes it easy to extend the stereo output from a mobile device.

Stereo Aux Cable: this extra-long cable allows for long-distance cable runs, such as when connecting a mobile device to speakers or a car stereo.

Headphone Splitter: splits a stereo source, such as the headphone output on a mobile device, to feed two sets of headphones or speakers. It provides plenty of length to assure proper separation between the listeners.

RCA Output Adapter: great for connecting a mobile device to DJ gear and home stereos with RCA inputs.

Mono Output Splitter: this cable makes it possible to send the output of a mobile device into a mixing board.

Travel Case: helps to keep all of the cables together and organized.

Pricing and Availability

The iLine Mobile Music Cable Kit is available on the IK Online Store and at dealers worldwide, and is priced at $59.99/€47.99 which represents a savings of close to 50% off the cost of buying the cables individually. Individual cable prices range from $14.99/€11.99 to $24.99/€19.99. A convenient travel case is also included to keep your cables in order, all in one place. All prices are excluding taxes.

The iLine Cable Kit app is free, and is available for iOS on the App Store, and for Android on the Google Play Store.

For more information on the iLine Mobile Music Cable Kit and its app, please visit:

www.ikmultimedia.com/iline

www.ikmultimedia.com/ilineios

www.ikmultimedia.com/ilineandroid
---
AmpliTube apps add Audiobus support
IK Multimedia AmpliTube Apps Add Audiobus Support for iPhone, iPad & iPod touch
Use AmpliTube with other iPhone, iPad and iPod touch audio apps in real time
Modena, Italy – March 15, 2013 – IK Multimedia announced today that AmpliTube, the leading guitar/bass multi-FX and recording app for iPhone, iPad and iPod touch, is now Audiobus compatible. Audiobus is a groundbreaking new app (developed by A Tasty Pixel in cooperation with Audanika) that allows users to connect the audio of up to 3 apps, opening up countless new sonic possibilities.
For example Audiobus lets users send audio out of one app, filter it through the next one in the chain, and receive it in the third. A synth could be looped by a looper and its output sent to a recorder; or an electric piano could be run through a guitar multi-FX app and then into a sampler — all in real time. AmpliTube is an excellent choice for any of the three slots in the Audiobus chain, thanks to its versatile feature set that includes amp-and-effects modeling, Loop Drummer (an integrated drum module), and a multitrack recorder.
Audiobus support is included in all versions and levels of AmpliTube version 2.9.5; including AmpliTube, AmpliTube LE and AmpliTube FREE for iPhone and iPod touch; and the full and free versions of AmpliTube for iPad.
There are currently over 60 apps supporting Audiobus from premium music app manufacturers like Korg®, Steinberg®, Moog®, Propellerhead® and many others, covering the widest range of music applications including synths and instruments, multitrack recorders and studios, real-time effects and loopers and many more. For a complete list please visit http://audiob.us/apps.
To enable this new feature and have AmpliTube work with other compatible Audiobus apps, users must install the Audiobus app (which must be purchased separately on the App Store) on their iPhone, iPad, or iPod touch.
IK offers multiple options for plugging guitars, basses and other electric instruments into an iPhone, iPad or iPod touch, for use with AmpliTube, Audiobus, and other compatible music apps. These include iRig, the most popular guitar/bass input adapter of all time; iRig HD, the new high-definition interface; and iRig STOMP, the first stompbox-style iPhone, iPad and iPod touch interface.
Pricing and Availability:
AmpliTube with the new Audiobus feature is a free upgrade for existing AmpliTube owners. Audiobus sells separately on the App Store for only $9.99. For new users, the full version of AmpliTube is available for $19.99 from the App Store. A free version is also available for both iPhone and iPad.
For more information on AmpliTube, please visit: www.amplitube.com
For more information on Audiobus, please visit: www.audiob.us
----
More resources:
Direct Link to the App Store for AmpliTube for iPad:
http://www.appstore.com/amplitube
Video links for AmpliTube:
http://www.ikmultimedia.com/products/amplitubeipad/index.php?pp=amplitube-for-ipad-video
AmpliTube Tutorials:
http://www.ikmultimedia.com/products/amplitubeipad/index.php?pp=amplitube-for-ipad-tutorial
---
Happy 30th Anniversary to Fodera Guitars!
We here at Bass Gear Magazine would like to extend our hearty "Congratulations!" to Fodera Guitars on this 14th day of March, 2013, which marks their 30th Anniversary.

30 years of making some of the best instruments in the world is certainly a milestone worth celebrating!

On behalf of bass players around the world, thank you to Team Fodera for creating all these playable works of art.

---
Phil Jones introduces H-850 headphones
Many bass players use the headphone out jack on their amp and/or preamp to conveniently practice quietly anywhere, and at any time of the day. Those same bass players also get frustrated with the quality of the headphones being used, as the tonal limitations become apparent after a couple of minutes. While many of the popular brand of headphones on the market sound excellent for casual listening, they fail to reproduce the low frequencies that many bass players need in their practice regimen.
Phil Jones Bass is proud to introduce the H-850 headphones, the first pair designed specifically to bridge the gap between high-quality music and deep and clear bass. Utilizing high power 40mm neodymium magnets and closed back acoustic loading, the sound reproduction is true and clear, allowing you you hear every nuance in your playing. The addition of superb acoustic isolation from external noise and bleed through allow for uninterrupted practicing, and the light weight frame ensures comfort during long stretches. Perfect for the practice room, studio, or even just casual listening, the PJB H-850 headphones will quickly become your favorite set of headphones. With a projected release date of May 2013 and an MSRP of $109, these headphones are going to make friends with your wallet as well.
H-850 Specs
Freq Response: 20Hz-20KHz
Impedance: 32 Ohm
Maximum Input Power: 1000mW
Sound Pressure Level (SPL): 96dB
Cable Connector: 3.5mm stereo (with 6.35mm stereo adapter)
Cable Length: 2m
About Phil Jones Bass
With over 40 years experience in playing bass and perfecting sound, Phil Jones has unmatched passion and knowledge in the industry, which has yielded ground breaking designs and award-winning sound products. Known for their signature small looks and jaw-dropping volume and clarity, the Phil Jones Bass amplifiers have graced stages all over the world, as well as some of the most famous recording studios. Musicians like Kyle Eastwood, Pino Palladino, Nathan East, Doug Wimbush and Bob Babbitt have relied on the strong tone that PJB amps provide.
Phil Jones Bass
info@philjonespuresound.com
314-814-3383
8509 Mid County Industrial Dr.
St. Louis, MO 63114
---
Best of Show Winner - EBS
EBS also won a Bass Gear Magazine Best of Show Award at the 2013 NAMM Show for their sweet new Billy Sheehan Signature Drive pedal. This thing has an amazing range of tones inside!


---
Best of Show Winner - PRS Guitars
Another Bass Gear Magazine Best of Show Award winner in the instrument category for the 2013 NAMM Show is Paul Reed Smith. The new 4 and 5-string PRS Grainger basses were well-received by all:


---
Best of Show Winner - Peavey
Peavey impressed us at the 2013 NAMM Show with their Vypyr VIP combos and walked away with a Bass Gear Magazine Best of Show Award. Previously, the Vypyr modelling amps were just for guitar, but now they can adapt to a variety of instruments, including bass. Peavey demo'd whole bands playing through a collection of these combos, and it sounded pretty darned nice!

Best of all, they sound great and are pretty affordable.


---
Best of Show Winner - Acoustic Image
Moving on the the amplification side, Acoustic Image introduced its Flex amp system, which takes the killer AI front end and places it in a separate preamp unit (which can be mounted on a mic stand, or which will magnetically stick to the top of the cab). This gets paired up with a powered enclosure (300 watts, each, for two 10" drivers, plus 50 watts for the tweeter). These are available separately, or as a package.

While they sound great on electric bass, AI amps/combos have always been especially friendly for double bass, and the new Flex certainly continues that trend.


---
Best of Show Winner - Ritter Instruments
Another Bass Gear Magazine Best of Show Award winner for the 2013 NAMM Show was Ritter Instruments. German luthier Jens Ritter literally wows the NAMM crowd every single year, and this year was no exception. But for 2013, Jens went above and beyond awesome with his unique vision of a "headless" bass, the R8 Concept. So unique, so elegant, and just so "right," the R8 Concept was a clear award winner from first sight.

Well done, Jens!
---
Best of Show Winner - Aguilina Basses
We'd like to take a moment to introduce the Bass Gear Magazine Best of Show Award winners for the 2013 NAMM Show. First up, we have Aguilina Basses, from French luthier, Sebastien Aguilina. Sebastien makes a number of great models, and each bass we played was exceptional. But this one particular Shelby 5-string with a yew top and back really spoke to us like no other bass at the show.

Congratulations, Sebastien!
---
Warwick LWA 1000
Warwick entered the lightweight, class-D, SWPS market at NAMM in a big way with the LWA 1000. It puts out 1,000 watts at 4 ohms, and has two individual channels with a separate 4-band EQ and compressor, an effects loop, as well as DI and Tuner outputs.




For more information, check it out, here:

http://www.warwick.de/modules/produkte/produkt.php?submenuID=14673&katID=24035&linkID=48496&&cl=EN
---
Meshell Ndegeocello and Joe Naylor of Reverend Guitars.
Issue 10 now available!
Meshell Ndegeocello and Joe Naylor of Reverend Guitars.
In this issue, we look at landmark amps and cabs from Fender and Trace Elliot, basses from Reverend, Godin, Fodera, and more! Be sure to check back on our website for upcoming NAMM show gallery photos, show highlights and more!
Catch all the latest news and events exclusivly at BassGearMag.com!
---
Zon and Dingwall Giveaway Winners
Congratulations to the winners of two of our recent gear giveaways!

Ken Okaya is the winner of the Zon Standard Series Giveaway.

Dave Schavone is the winner of the Dingwall Combustion 5-string Giveaway.

You could be a winner, too! Watch for more giveaways, soon.

---
2nd Annual MTD Family Reunion Benefit Concert
NAMM 2013: MTD4LYFE and Michael Tobias Design (MTD Bass) announce Second Annual MTD Family Reunion Benefit Concert to Support The Sweet Relief Musicians Fund and H.E.A.R. at The 2013 NAMM Show
SUMMARY: MTD4LYFE, Inc., the non-profit organization founded by Michael Tobias of Michael Tobias Design (MTD Bass) to support musicians in need, announced The Second Annual MTD Family Reunion benefit concert that will take place during the 2013 Winter NAMM Show in Anaheim, CA on Saturday, January 26th, 2013 at J.T. Schmid's. Performers include Andrew Gouche & Band of Brothers, Robert "Bubby" Lewis, Jimmy Haslip, Norm Stockton, CBC Trio featuring Charlie Kniceley, and Eddy Khaimovich Group. Tickets are available at The MTD booth #5868 during the NAMM Show for a donation of $20. 100% of the profits benefit The Sweet Relief Musicians Fund and H.E.A.R. (Hearing Educations and Awareness for Rockers).
---
Orange Amplification launches new website
Orange Amplification announced the launch of its new website.

"Starting from scratch, it is packed with a wealth of new information and user-friendly ideas laid out in a clear and concise format.

We think our freshly squeezed Orange Amplification website is better than ever. It comes with improved navigation and a whole host of new features, sections and content, which includes faster loading times and compatibility for your iPad or mobile device. Product searches are now simpler and provide more comprehensive information. There's even a new photo library featuring every Orange Amplification product - with slide shows showing the products from all angles, including close-up images and video demonstrations."

Check it out!

http://www.orangeamps.com/text


---