Nordstrand Pickups releasees Alnico III bass pickups
---
Nathan East Demos TC Electronics BH800 and K-Cabs
Check out Nathan East jamming on the new TC Electronics BH800 head through their new K-Cabs enclosures:

Nathan East Jam

---
New Top Options for Pedulla Nuance Basses
Pedulla Nuance bass guitars can now be ordered with your choice of AAA or AAAAA flamed or quilted maple tops. Visit www.pedulla.com for more information.


---
Source Audio Releases MIDI Control for Analog Pedals
Here's a rare sneak peek behind the curtain of Source Audio's advanced research and development lab.
At first glance, this looks like an all-analog pedal board with some of MXR's great-sounding and popular effects: the Phase 90, Carbon Copy Delay, and Custom '78 Distortion. But under the hood lurks the Neuro Module, which was hacked in to the effect circuits by Source Audio's engineers. With the Neuro Module, these analog pedals can now be controlled with MIDI - you can save and recall presets, enable/disable the effects remotely, change parameters on the fly, or even use an expression pedal to virtually "turn the knobs" with your foot!
All of this was done while leaving the analog circuit undisturbed. The guitar signal is never digitized.
It might sound hard to believe, but this is all made possible with the Neuro Module and Source Audio's Neuro Technology! Watch the video below to see it in action.
This project is still in the prototype stage of development, but we're working with third party analog effect makers to get the Neuro Module integrated into future versions of their products. Drop by the Source Audio booth at the 2015 NAMM show for more information.
Check Out Our Other NAMM 2015 NAMM Sneak Peeks!
Sneak Peek #1: The Gemini Chorus
Sneak Peek #2: The Reflex Universal Expression Controller...
Sneak Peek #3: Kingmaker Fuzz...
Sneak Peek #4: The Neuro Loop Switcher...
Sneak Peek #5: The Lunar Phaser...
Sneak Peek #6: SoleMate MIDI Foot Controller...
Sneak Peek #7: The Vertigo Tremolo...
---
ACME Launches the Low B-212 and Low B-212 Composite
ACME LAUNCHES TWO UNIQUE NEW 212 MODELS FOR BASS GUITAR

Acme Sound, a leader in high fidelity speaker cabinets for bass, keyboard and PA, today announced the availability of two new 1500-watt rated Series III models, the Low B-212 and Low B-212 Composite, both of which deliver Acme's characteristically uncolored, full range sound with extended lows, at very high volumes, from small, portable boxes.

The Low B-212s' unique enclosures each feature two 12-inch custom woofers mounted back-to-back, a 1X1-in shallow horn and a proprietary crossover and play very loud and clean across the spectrum from 31 Hz to 20K Hz. Sensitivity is 94 db and only eight-ohm models are available at this time. Dimensions are 26.5 in. high x 23 in. wide x 16.5 " deep. The Low B-212 Composite ($1500 plus freight) is constructed of composites, and weighs just 50 lbs.—11 lbs. less
than the still-light standard Low B-212 ($1100 plus freight).

"We have extensively gig-tested the Low B-212s prior to launch and the reaction from bass players who play loud and deep but who value both fidelity and their back muscles has been phenomenal, said Andy Lewis, Acme Founder and Chief Designer. "Feedback has been that our 212s convincingly outperform comparable enclosures across the board, including 8X10s costing and weighing far more."

All Series III Acme cabinets feature the company's new logo and can be investigated on the recently-redesigned website acmebass.com

Founded more than 20 years ago, Acme Sound is a pioneer in high fidelity musical instrument amplification based on classic science and great execution.

Made in Colorado and sold direct with a two-week trial period, all Acme enclosures feature proprietary drivers, crossovers and construction and are protected by a ten-year warranty.
---
iRig Pads Now Shipping
Ultra-portable universal MIDI groove controller for iOS and Mac/PC
22 September 2014
We are now shipping iRig Pads: the full-featured, ultra-portable MIDI groove controller for iPhone, iPad and iPod touch as well as Mac and PC. It's the perfect companion for the mobile electronic music producer on the move: Now you can make beats, grooves, mixes anywhere you go.
Effortless portability
iRig Pads is designed to be effortlessly portable. It's smaller than an iPad and less than 1" thick - it's the smallest groove controller in the market. It has a slim, compact form factor and it's lightweight, which means that it can be slipped into any iPad or laptop bag or backpack and carried around with ease. For maximum portability, iRig Pads is a low energy consumption device - it draws its power directly from its host device and does not need a power source to be fully functional. It can be used with iPhone, iPad and iPod touch via its included Lightning cable (30-pin connector sold separately) without the need of an adapter as well as Mac and PC via its included USB cable.

Extreme versatility, custom controls
At the heart of iRig Pads is its 4x4 grid of 16 velocity-sensitive, backlit multicolor rubber pads. Each pad lights up in three different colors - red, green and orange - to match your playing with the MIDI information coming from your chosen music app or software.

But iRig Pads does more than your average mobile pad-based MIDI controller. Its full spread of controls - two knobs, two buttons, one slider and one push-button rotary encoder - let you get creative. All controls are MIDI assignable and customizable: Up to 16 distinct MIDI maps or "scenes" can be saved, which allows for full control of apps and software on stage or in the studio. iRig Pads comes with 6 pre-programmed scenes designed to work with many of your favorite apps and software right out of the box.

Apps for Beats, Loops, Decks and more
To help you get in the groove, IK is working to make iRig Pads the ultimate controller for beats, loops and more by adding support for a growing suite of powerful apps and software. iPhone and iPad users will be able to make beats out of the box with the included SampleTank® free, and they'll soon be able to control grooves and launch loops with GrooveMaker® 2 free for iPhone and iPad and remix their preferred tracks with DJ Rig™ free (all downloadable from the iTunes store).

On Mac/PC the included SampleTank 3 SE (worth $99.99/€79.99), available as a standalone and a plug-in virtual instrument for every major DAW, includes over 6.5 GB of sample contents, 400 instruments and 150 MIDI patterns, for a complete music production workstation, out of the box (coming soon as download from the IK user area). In addition, by registering their iRig Pads, users will be able to receive The Grid, an exclusive and free additional collection of 50 instruments (800 samples) and 50 MIDI patterns - designed exclusively for beat makers and groove performers who use iRig Pads - for SampleTank on iOS and Mac/PC (a value of $9.99/€7.99 for iOS and $39.99/€29.99 for Mac/PC).

And that's only scratching the surface - iRig Pads is also fully MIDI class-compliant, which means you can use it and customize its controls for use with virtually any MIDI-compatible app such as FL Studio Mobile, iMPC Studio and GarageBand or Mac/PC software such as MPC Studio, Ableton Live, Maschine, GarageBand and more.*

Pricing and Availability
iRig Pads is now available from music and electronics retailers worldwide for $149.99/€119.99 (excluding taxes) as well as on the IK online store. Thanks to its generous feature set, included content value and universal uses for iOS devices as well as Mac and PC, iRig Pads offers the best quality to price ratio of any MIDI grove controller on the market.
To buy iRig Pads click here
To learn more about iRig Pads click here
To watch the iRig Pads overview video click here
*iRig®, SampleTank® and GrooveMaker® are trademarks property of IK Multimedia Production. Ableton, the Ableton Logo and the Live logo are trademarks of Ableton AG. FL Studio is a registered trademark of Image Line BVBA. MPC is a registered trademark of inMusic Brands Inc. Maschine is a trademark of Native Instruments GmbH, registered in the U.S. and other countries. iPhone, iPad, iPod touch, Mac and GarageBand are trademarks of Apple, Inc., registered in the U.S. and other countries. iPad Air, iPad mini and Lightning are trademarks of Apple, Inc. All other product names and images, trademarks and artists names are the property of their respective owners, which are in no way associated or affiliated with IK Multimedia.
---
Radial Engineering Relaunches Hafler Brand
Vancouver BC, Canada - Radial Engineering Ltd, a global leader in professional audio circles is pleased to announce it is re-launching the Hafler brand of high-fidelity audio products.
According to Radial President Peter Janis: "Way back in the 1990's, Radial was the Canadian distributor for Hafler and ever since then, we have felt that given the opportunity, we could bring Hafler back to the world of audio. Earlier this year, we purchased the brand from Rockford-Fosgate and have been quietly working through designs in preparation to launch the brand at this year's CEDIA trade show."
"Although Radial is not well known in hi-fi and home theater circles, we are in fact a major supplier to the professional touring and recording markets. Radial is the world's leading producer of direct boxes, owns the Reamp, Tonebone and Primacoustic brands, and ships nearly 100,000 electronic devices a year to customers around the world. Artists who use Radial include The Rolling Stones, Paul McCartney, Vince Gill, The Boston Pops Orchestra, Keith Urban, Chick Corea and Metallica just to name a few. We plan to leverage these relationships to bolster the Hafler brand and have already secured an endorsement by the world's most revered engineer of all time; Al Schmitt - known for his work with Frank Sinatra, Barbra Streisand and Steely Dan."
"David Hafler basically invented high fidelity amplifiers back in the 1950s under the Dynaco brand. Later, he launched the David Hafler company. When Rockford-Fosgate took over the reins in 1987, they focussed their attention on studio amplifiers culminating their designs with the popular P3000 and venerable 9505, often considered to be one of the most musical and dynamic sounding amplifiers of all time. We are currently going through the paces of redeveloping these legends. But this is no easy task! We are working with various winding companies to recreate power transformers, locating some hard to find parts and retooling the heat syncs. Once the groundwork is completed, we will upgrade the designs where we think we can bring value. We anticipate launching the power amps in 2015."
"As we are a small box specialty manufacturer, we have actually begun the 'Halfer Revolution' with phono preamps and headphone amplifiers."
---
2014 Warwick Bass Camp
Framus & Warwick Press Release Bass Camp and Open Day 2014 Review
On September 6th a week charged with music came to an end. It was a week which all participants surely will remember fondly; a truly unique event, but one that is to be continued in 2015. We have already received 59 enrollments for the 2015 Bass Camp! It's amazing how quickly the enthusiastic comments of this years attendants have been making the rounds.
Warwick Bass Camp 2014, presented by Gitarre & Bass, took place from 1st to 5th of September in Markneukirchen and had been fully booked since last November 2013. 81 participants from 17 nations attended and were divided into five workshop groups led by 18 world-class professors.
Professors held 20 workshops per day. Additionally on two afternoons Master Classes were offered with a maximum of six participants per lecturer. Warwick provided five fully audio and video outfitted training rooms; three of them on the "Warwick Campus" and two more in the new Music Hall close by.
Interested people had the possibility to visit the Framus Museum, to take part in a tour of the manufacturing plant (with production manager Marcus Spangler) or to have their own bass guitar checked and set up anew. Daily collective lunch and dinner were held on the Music Hall premises and in the evenings students and lecturers got together on the Music Hall stage for no holds barred jam sessions.
The official inauguration of the Music Hall on Friday evening turned out to be a real highlight when some of the stars who had arrived for the Open Day took the stage (Metallica's Robert Trujillo among others) and rocked the house to it's foundations.
Also during the Bass Camp week Warwick, as the first company from Saxony, was admitted to the circle of the German environment protecting companies, which is an initiative in excellence headed by German economic organizations.
Framus & Warwick Open Day 2014
On perfectly sunny Saturday over 4000 visitors flocked to the premises of the Markneukirchen instrument manufacturer Framus & Warwick to experience Open Day as the culmination of the Bass Camp week. The spectacle commenced at 10.00 a.m. All day long, visitors eagerly availed themselves of the opportunity to partake in production tours to have insights in the manufacturing process of first class guitars and basses.
More than 100 Framus and Warwick artists form all over the world were present and "beleaguered" by fans during Meets and Greets. Naturally also the 81 Bass Camp students attended and talked about their experiences. BBQs, beverage stands and a Jägermeister truck took care of the visitor's bodily welfare. Local press put in an appearance, the newspaper "Freie Presse – Sachsens größte Zeitung" for example headlined their article with: "Nobody musicians meet their idols - Warwick company grounds on Saturday resembled a beehive".
However, the biggest excitement of the Open Day were of course the international Superstars performing on the Open Air stage. Beginning at 11.45h, the following artists mesmerized the visitors:
Andy Irvine Group
Andy Irvine, Warwick-Artist and -Clinician, together with fabulous guitar slinger Johnny O. and drummer Maciej Kudla, brought bass grooves and lively Blues to the stage.
Siyou'n'Hell
Legendary bass player Hellmut Hattler (Kraan, Tab Two, Hattler), who is known for his distinctive, powerful play, banded together with singer Siyou (Siyou Gospel Projekt) in a duo with almost telepathic intimacy.
The Wootens: Victor, Regi & Adam
Icon bass player Victor Wooten in a family affair with his brother, the Framus artist Regi Wooten and Victors son Adam on drums - a real treat!
Dave Roe
Warwick-Artist Dave Roe (Johnny Cash, Jerry Reed, Faith Hill), the renowned Nashville Session bass player mixed and served a "steaming" pot of Rock, Country, Soul und Prog-Surf!
Neil Taylor
Guitarist Neil Taylor (Tears For Fears, Robbie Williams, Rod Stewart) celebrated a musical feast on stage, which reminded everybody of his glorious past as a guitarist for the multiple superstars. On bass: Warwick-Artist Gwenael Damman (Christina Stürmer).
Mass Mental
A "Once in a lifetime" concert, brought to you by Warwick! The fusion of Superstars to form the band Mass Mental! (Rob Trujillo-bass (Metallica), Benji Webbe - vocals (Skindred), Armand Sabal-Lecco - bass (Paul Simon), Ken Schalk – drums (Candiria) and Special Guest: Whit Crane - vocals (Ugly Kid Joe).
Nik West Band
Bass player, singer and composer Nik West (Dave Stewart, Prince, John Mayer) regaled everybody with funky grooves on the Open Day stage. With this concert the event came to an end for our visitors.
The party went on with our VIP guests though. After the thunderstorm of so much rare guitar and bass playing, lightning of a different nature illuminated the sky to conclude the Framus & Warwick Open Day 2014, namely the grand fireworks at midnight!
Many thanks to all present and a heartfelt "See You and Hear You in 2015"!
A detailed account, with more pictures of the Warwick Bass Camp and Framus & Warwick Open Day 2014, titled "Latest News", is to be found in the NEWS section on our website: www.warwick.de
Warwick Bass Camp 2015
Bass Camp 2015 will take place from 31st of August until 5th of September 2015, attendance fee for early bookers (until 31.12.2014) is 899 EUR including 7 overnight stays (www.ifa-ferienpark.de) and shared dinners. Arrival: 30st of August 2015; Departure: 6th of September 2015.
All information concerning the Bass Camp 2015 can be found here: http://basscamp.gitarrebass.de
Booking at: http://basscamp.gitarrebass.de/anmelden.html
---
Billy Sheehan Scandinavian Clinic Tour
Billy Sheehan Scandinavian Clinics Coming Up!

EBS Sweden AB & Yamaha Scandinavia are happy to present the BILLY SHEEHAN SCANDINAVIAN CLINIC TOUR in September!
September 19: Pop-Jazz Conservatory/Metropolia, Helsinki. Time: 13:00
September 20: F-Musiikki, Vantaa. Time: 12:00 (noon)
September 22: 4Sound Söder, Stockholm. Time: 19:00 (doors:18:30)
September 24: 4Sound, Copenhagen. Time: 17:30 (doors: 17:00)
September 25: 4Sound Schous Plass, Oslo. Time: 20:00 (doors: 19:30)
September 26: FIH, 27 Raudagerdi, Reykjavik. Time: 20:00
Free entrance.
In addition to the clinics, Billy will do a MasterClass for Rytmus students exclusively in Stockholm on September 23. Check www.rytmus.se for details.
---
IK Multimedia Adds Wampler Pedals to AmpliTube
IK Multimedia adds official Wampler™ Pedals
to AmpliTube® Custom Shop
AmpliTube Custom Shop for Mac/PC grows with
Pinnacle Deluxe and Nirvana Chorus stomps from Wampler Pedals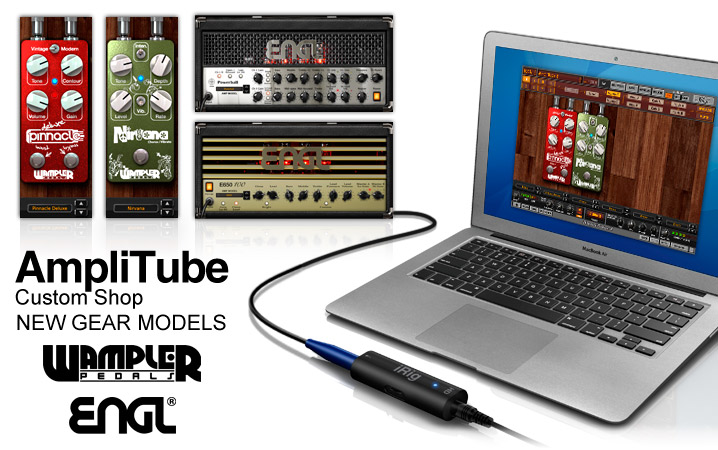 May 15, 2014 - IK Multimedia, the global leader in digital modeling technology, announced today in cooperation with boutique stompbox effects manufacturer Wampler Pedals, the release of their top models in AmpliTube Custom Shop for Mac and PC. These new models give guitar players new high-end power tools to perfectly sculpt their tones in their DAW.
Wampler Pinnacle Deluxe
This pedal model is designed to reproduce the sound of late 70's to early 80's plexi-style amplifiers pushed to the limit. This classic tone, also known as Brown Sound was the trademark of several guitar-god innovators of that era. The Pinnacle Deluxe model offers the flexibility of a dual mode operation, where it can be used as a standard overdrive, or pushed further with the Boost switch, where an additional gain stage is added for increased distortion. Tone and Contour controls allow players to find the perfect balance of high end and mid-range, so that the pedal can be tailored to rhythm or lead sounds with an intuitive, easy to use design.
Wampler Nirvana Chorus
The Wampler Nirvana Chorus is one of the most versatile chorus models in the Custom Shop. It delivers both flexible, shimmering, lush, rich chorus effects and a huge range of vibrato all from one stomp effects pedal. It features a level control capable of boosting the effect signal above unity, a tone control for fine tuning and sculpting the high-end content tone of the effect, depth and rate controls, plus a tri-level effect intensity toggle and vibrato/chorus mode toggle.
AmpliTube Custom Shop
The AmpliTube Custom Shop for Mac/PC is a free DAW plug-in and standalone app that gives players access to some of the most sought-after analog and digital music gear. Once installed, it allows players to browse collections of gear models from the world's top manufacturers of gear including Fender®, Ampeg®, Orange®, Soldano®, Gallien-Krueger®, Dr. Z®, Jet City®, T-Rex®, Zvex® and more, plus signature gear from artists like Slash and Jimi Hendrix. Players can buy individual pieces of gear or entire collections using Custom Shop Gear Credits or currency.
Plugging In
With IK Multimedia's range of interfaces for mobile devices and Mac/PC, getting guitar signal to AmpliTube is as simple as plugging into an amplifier. iRig HD and iRig PRO are the newest digital interfaces that allow players to plug into an iPhone, iPad, iPod touch and a Mac or PC* and deliver pristine quality pure guitar signal.
*Support using the ASIO4ALL driver on Windows® XP, Vista, 7 or 8.
Pricing & Availability
To access the new gear models in the AmpliTube Custom Shop, users need to download AmpliTube version 3.13, which is also a free update for current AmpliTube owners, and is available for Mac/PC. The new models are available now and can be purchased with Custom Shop Gear Credits. Wampler Pinnacle Deluxe and Wampler Nirvana Chorus are available for 20 credits each. Gear Credit Packs start as low as $19.99/€15.99 (for 20 credits) and go up to $749.99/€639.99* (for 1,500 credits).
*Prices exclude taxes.
For more information about AmpliTube and AmpliTube Custom Shop, please visit
For more information about IK's range of interfaces and accessories for iPhone, iPad, iPod touch and Mac/PC, please visit www.ikmultimedia.com/interfaces
---
Radial releases SR2-DT Desktop Remote Switch
Vancouver BC - Radial Engineering Ltd. is pleased to announce the JR2-DT remote is now shipping. The JR2-DT is a dual function control switch that enables the user to A/B toggle devices, such as the Radial SW4 and SW8, from the comfort of a desk-top position or remotely mute the system.
According to Radial Custom Shop Manager Ryan Juchnowski: "Since we launched the Radial SW8 backing track switcher, we have had several requests to produce a custom remote control to enable the user to reach over to switch from one backing track to the other should one of the playback systems fail. We figured that since we were building an updated version of the SW8, it was the perfect time to produce an off-the-shelf solution. The JR2-DT is super compact, uses a standard XLR as the cable interface and is plug and play easy to use!"
The compact JR2-DT features choice of XLR and ¼" remote outputs to suit various set-ups. There are two switches on the top panel: one switch is labelled A or B, the other mute. Each switch is a latching type that stays engaged until it is depressed a second time. On-board LEDs illuminate to let you know status. These derive their power from the Radial device that is connected, eliminating the need for batteries or local power supply. Construction is 16 gauge steel with powder coated finish. As with all Radial products, the JR2-DT is made in Canada and comes with a 3-year transferable warranty.
The JR2-DT is now shipping and retails for $110 USD.
---
Win a TC Helicon VoiceLive 2 Processor!
Singers Win Big as ArtistWorks' Online Vocal School and Voicecouncil Magazine Team up to Give-Away a TC•Helicon VoiceLive 2 Processor
Two ways to sing better: The VoiceLive 2 and get free online sample singing lessons from newly upgraded Jeannie Deva Online Vocal School
March 11, 2014 – NAPA, CA – Leading lifestyle social e-learning platform provider, ArtistWorks and VoiceCouncil Magazine have joined forces to present a give-away to promote the newly upgraded ArtistWorks' Online Vocal School with Jeannie Deva.
One lucky person will win a TC•Helicon Voicelive 2 vocal processor. With a retail value of $945, the VoiceLive 2 is a remarkable vocal tool that gives singers realistic harmonies, reverbs, delays, EQs, compression – everything that's needed to perfect a stunning vocal performance.
The ArtistWorks Online Vocal School with Jeannie Deva helps singers unlock new power, range and confidence in their singing. Its Video Exchange™ platform combines hundreds of pre-recorded videos with the ability to submit practice songs to celebrity vocal coach Jeannie Deva and get personalized video coaching on their performance.
Jeannie has added 45 newly recorded lessons expanding on her proven method and adding new features like singing harmonies and more.
TC•Helicon's VoiceLive 2 and ArtistWorks' Online Vocal School with Jeannie Deva represent two powerful ways for singers to cut through the mix and dazzle audiences.
The contest starts immediately and lasts through April 9th. No purchase is necessary and entrants must be 18 years of age at the time of entry. All entrants can take advantage of free sample lessons from Jeannie Deva's online vocal school.
The Online Vocal School with Jeannie Deva starts at just $90 for three months of unlimited access, $150 for six months and $240 for 12 months.
To enter the the give-away click here.
For more information about The Online Vocal School with Jeannie Deva, visit DevaVocals.com.
About VoiceCouncil Magazine
VoiceCouncil Magazine is counted as one of the best online resources for contemporary vocalists, connecting singers with the best in online content for maintaining vocal health, getting gigs, developing technique, mastering vocal technology and more. For more information, visit www.voicecouncil.com
About ArtistWorks, Inc.
Founded in 2008 by former AOL executive David Butler and former financial executive Patricia Butler, ArtistWorks, Inc. is the leader in a new generation of online learning platforms. Their revolutionary global learning community of world-renowned teaching artists and enthusiastic amateurs is dedicated to unleashing the music that lies within all of us. This "next generation" Video Exchange Feedback Platform enables virtuoso musicians to "teach the world" by presenting their musical legacy in the form of HD video lessons to subscribing members. Utilizing simple web cams, smartphones, tablets or video cameras, members are able to submit practice videos and get individualized video feedback and guidance from their teaching artists - creating a constantly evolving two-way, online learning experience.
ArtistWorks currently offers schools from such world-class artists as: Paul Gilbert (rock guitar lessons), Martin Taylor (fingerstyle guitar lessons), Jason Vieaux (classical guitar lessons), Andreas Oberg (jazz & more guitar lessons), Jeannie Deva (singing lessons), Nathan Cole (violin lessons), Jeffrey Khaner (flute lessons), William Caballero (French horn lessons), David Bilger (trumpet lessons), Ricardo Morales (clarinet lessons), Nathan East (electric bass lessons), John Patitucci (jazz bass lessons), Howard Levy (harmonica lessons), DJ Qbert (DJ lessons), Christie Peery (piano lessons), Luis Conte (percussion lessons), as well as the ArtistWorks Academy of Bluegrass with Tony Trischka (banjo lessons), Missy Raines (double bass lessons), Bryan Sutton (flatpick guitar lessons), Andy Hall (Dobro lessons), Mike Marshall (mandolin lessons), and Darol Anger (fiddle lessons). Jazz Guitar with Chuck Loeb launches Spring 2014. For more information, visit www.ArtistWorks.com
---
Adamovic Introduces "The Dark"
Adamovic introduces their new concept bass, "The Dark":


"We have used our more than a decade long experience of building the finest custom tailored instruments to design our Concept bass line. Each concept bass is designed from the ground up combining the perfect mix of ingredients to achieve the desired playability and sonic performance for a particular type of player or genre of music. The process of developing a concept bass design involves years of research and feedback from pro players who are continuously testing the prototypes in studio and on tour. We have been working on new concept basses secretly over the last several years and The Dark is the first Concept bass we are going to introduce The Dark was designed to be a versatile bass while having its own unique voicing. For The Dark we chose a combination of African padouk, walnut and ebony. This combination produces a warm, growly, dark sound but with very articulate clear notes that will cut through any mix. The Dark will feel right at home whether you play in a band setting, the studio or doing a solo performance."
You can hear The Dark here:
34" scale:
http://youtu.be/RZLOIWxQT_s
33" scale:
http://youtu.be/dBx35VrIAqQ
33" scale (fretless):
http://youtu.be/zo6xvWHP2wU
---
Bass Gear Magazine joins MIPA
Bass Gear Magazine has been invited to be a participating magazine in the prestigious Musikmesse International Press Award for 2014.

http://www.mipa-award.de/


---
Andrew Glover Hosts Free Bass Production Class
WINDS OF PLAGUE BASSIST ANDREW GLOVER (SOUND TEMPLE STUDIO) TO HOST FREE CREATIVE LIVE "ADVANCED BASS PRODUCTION" CLASS
Two-day workshop begins February 24, 2014, Enroll now!
SEATTLE, WA - creativeLIVE, the world's leading online classroom, has announced its next 'Music & Audio' course, "Advanced Bass Production," hosted by Winds of Plague bassist and Sound Temple Studio founder, Andrew Glover. The two-day workshop, free to watch live, will begin February 24 at 9 AM PST. The class marks creativeLIVE's first-ever two-day course dedicated to the art of recording, editing and mixing great modern bass tones. For more information, and to enroll today, head over to: http://www.creativelive.com/courses/advanced-bass-production-andrew-glover. And check out a teaser video for the class on YouTube at: https://www.youtube.com/watch?v=pqkz7oPPV7g.
"Bass guitar is one of the most misunderstood aspects of modern rock recording, but it is the foundation to a great mix," commented Glover. "In this class I'll be covering and expanding upon a lot of the basics to recording bass, as well as teaching you some advanced techniques to take your bass sounds to the next level."
Since its inception in 2010, creativeLIVE has broadcast more than 250 courses to more than 1 million students worldwide. Now streaming live from studios in Seattle and San Francisco, creativeLIVE hosts workshops in photography, video, design, business, audio, music, and software training, unlocking previously closed doors by making dynamic education accessible to everyone.
The site's next 'Music & Audio' instructor, Andrew Glover, is the owner of Sound Temple Studio in Los Angeles and longstanding bassist for heavy metal act, Winds of Plague. Founded in 2008, Sound Temple has already worked with bands like Impending Doom, The Ghost Inside and Sleeping Giant, as well as labels like Century Media, Facedown, Metal Blade and more. In 2013 Glover expanded his recording empire, opening up Temple II Recording Studio in Phoenix, Ariz.
Stay tuned to creativeLIVE and http://www.creativelive.com/audio for more information on "Advanced Bass Production" and other upcoming 'Music & Audio' classes.
---
2014 Winter NAMM Videos
We are finally posting some of the 2014 Winter NAMM Show videos over at the Bass Gear Magazine YouTube channel. Check it out at www.youtube.com/bassgearmagazine.

---
10% discount for Remote Drum Session website
"New Remote Drum Session website launched by session drummer Matt Dean. Professional drum tracks in all styles recorded at custom drum studio and delivered to you via the internet.
Special offer for Bass Gear Magazine readers. 10% off the already cheap prices when you mention the magazine.
Visit www.onlinesessiondrum.com and mention the magazine for the discount or email info@onlinesessiondrum.com "
Kind regards,
Matt Dean
---
2014 NAMM Best of Show Award Winners
Once again, the NAMM Show in Anaheim was a wonderful event, full of cool gear and folks from all walks of life. As we unwind and recover, we thought we'd let you all know about our six Bass Gear Magazine Best of Show Award winners. Here they are (in alphabetical order):

3Leaf Audio - Wonderlove & You're Doom pedals
Darkglass Electronics - Vintage Deluxe pedal
Demeter Amplification - VTBP-M-800D bass head
ESP - Stream bass (LTD, E-2, and ESP lines)
Peavey - MiniMega bass head
Marleaux Guitars - Diva 5-string bass

We will go into more depth on each of our winners in future News items.

---
Xsonics Giveaway Winner
Congratulations to the winner of the Bass Gear Magazine Xsonics giveaway, Steve Lovellette!

Enjoy, Steve!

---
IK Multimedia Announces iRing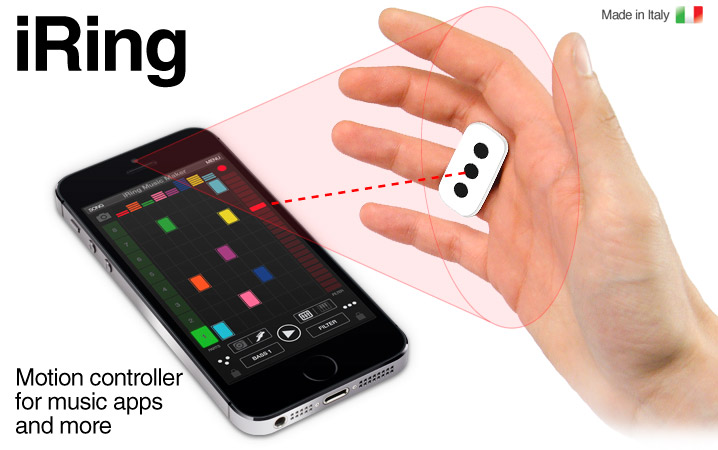 Advanced motion detection and positioning technology that gives you control over your music apps on your iPhone, iPad and iPod touch.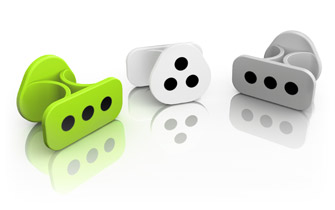 Take Control
Now control your music apps and effects without touching your device with the iRing™ touchless controller for iPhone, iPad and iPod touch. The new iRing uses hand gestures to control parameters of effects and other items in your music apps, allowing you to create stunning and dramatic music in an incredibly fun way by simply moving your hands in front of your device.
iRing uses patented advanced image-recognition, motion control and precise geometric positioning technology to give you control of assignable parameters within your apps. It uses the front-facing camera on your device to determine the exact position of the wearable rings, and recognizes and tracks the movement of the linear or triangular patterned iRing "rings" allowing you to control up to six parameters at a time.
Making music and creating killer real time effects for nonstop dance music and grooves is now easy and as simple as moving your hands… something you probably already do. So get the groove going and take control with your hands and iRing.
The ABCs of XYZ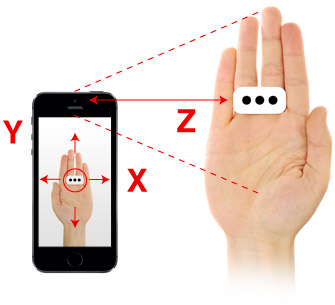 Okay, so how does this thing work? iRing is a simple double sided ring that fits comfortably between your fingers. On one side is an engraved linear pattern of three dots, on the other is an engraved triangular pattern of dots. iRing uses the front-facing camera on your device and advanced volumetric positioning algorithms to recognize and determine the exact physical location of the ring in relation to the device camera. This precise reading of the physical location of the ring is converted into MIDI control messages that are easily read by your music apps over time, thus allowing you to move your hands to control certain parameters within your apps. So in essence, iRing and the iRing control app track your movements and convert them into useful info your apps use to change things.
Pretty slick, huh? iRing is the first control system available for iPhone, iPad and iPod touch devices and the list of apps compatible with iRing technology is growing rapidly.
Okay, but in practical terms…
Let's say for instance you want to control an audio effect. Many of the effects in GrooveMaker 2 and VocaLive allow you to control parameters in real time by utilizing an "XY" grid and dragging your finger across the screen. For an effect like a "Delay" effect, when you slide you finger across the grid on the touchscreen, you change the Delay Time and the amount of repeats (feedback) of the effect.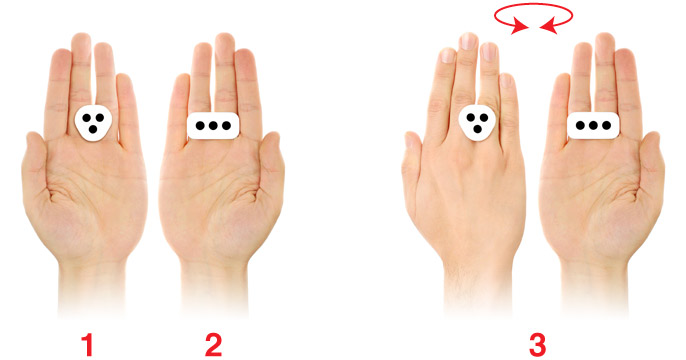 With iRing, you actually get a 3 dimensional grid — an XY and Z grid — that allows you to move across the screen to control delay time and feedback (the X & Y grid), but also gives you a third parameter to control by moving the iRing closer to or farther from the device. This "Z" movement allows you to control the amount of delay applied to the signal, so you can control up to 3 parameters at a time with just one iRing. And iRing comes with 2 rings, one for each hand, so you can control up to six parameters (3 per effect) with your hands.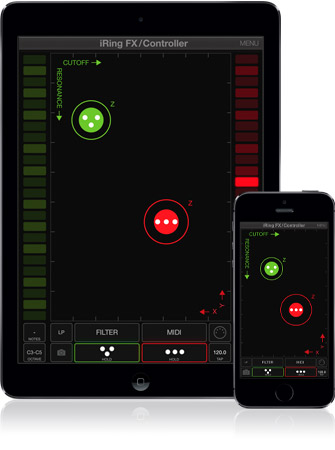 The Engine: iRing FX/Control App
At the core of the iRing concept is the free iRing FX/Control app that does all the heavy lifting for you. iRing FX/Control is first the engine that drives the technology and sends your apps the information they need for controlling effect parameters and more. The control feature of iRing works in the background, so it's completely transparent to the operation of your device. But there's more…
iRing FX/Control is also an AudioBus and Inter-App Audio compatible multi-effects processing app you can use to add stunning and brilliant audio effects into your favorite audio apps, and control them with your iRing. With iRing FX/Control, you get 16 high quality creative effects. Choose from standard effects like filter, delay, compression, reverb and wah, or add a new level of audio creativity with our suite of wacky DJ effects like stutter, Fuzzy, Crush, Twist, Brake, Spin and Tail. iRing FX/Control is free with the iRing and available on the App StoreSM.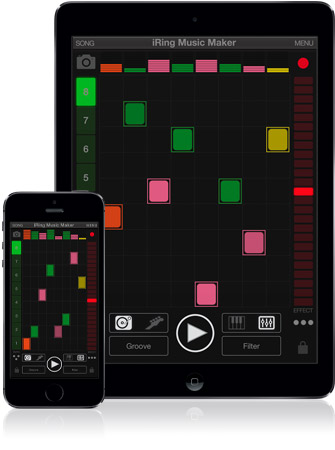 Music Judo
iRing is the first controller for iPhone, iPad and iPod touch that uses motion to control parameters within your favorite apps. But iRing can also be used to create real-time, non-stop dance grooves and scores with the included iRing Music Maker app. Imagine DJ'ing a party and using your hand movements to create the mood and groove! With iRing and iRing Music Maker, you can do just that.
iRing Music Maker is very similar to our popular GrooveMaker app that allows you to create non-stop grooves and complete compositions utilizing music "loops" that always sound good together. Music Maker is based upon the same concept, but is designed from the ground up to be used with iRing… switch loops, change effects and create the mood all without touching your screen. You have to hear it to believe it, but trust us, this is the future of mobile music making control. iRing is also compatible with new versions of our most popular apps for musicians: AmpliTube, SampleTank, GrooveMaker 2 and more, giving you a whole new approach to sound design and control.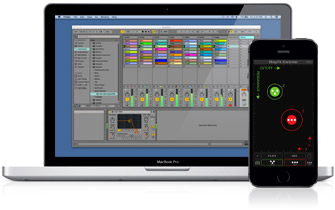 What you get
iRing is available from musical instrument and consumer electronics retailers worldwide and includes two iRing rings and two apps from the App Store.
For music app developers, we have an SDK and a FREE licensing program available upon request for developers who want to take advantage of this breakthrough technology to integrate motion control into their apps.
iRing™ technology can easily be utilized beyond music apps, so we encourage game, health & fitness, utility and other app developers to contact us to take advantage of the technology and improve the functionality and control of apps with iRing™.
---